Bears Matter Month
February 14th – March 14th 2013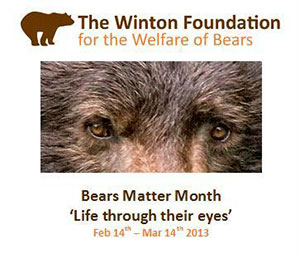 We are delighted to announce the launch of our first 'Bears Matter Month' in 2013. This will be a month of awareness and fundraising which will run from Valentine's Day to Mother's Day each year and will incorporate International Save Bears Day on February 21st.
During this month, the Winton Bear Foundation will be holding a number of awareness and fundraising events to help highlight the plight of all eight species of bear around the world, and our work, along with others, to help end their exploitation for profit and entertainment.
We are asking supporters and bear lovers around the world to organise their own fundraising events during this month to help raise funds for WBF to enable us to continue our vital work. If you'd like to plan your own event for this month, please let us know and we'll give you as much support as possible.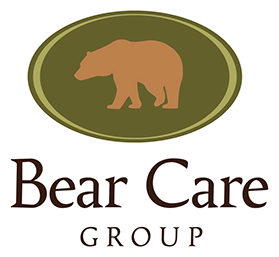 We are delighted and very proud to announce, that as part of our inaugural Bears Matter Month, we are working with the renowned
Bear Care Group
and are providing a sponsorship for their 2013
Advancing Bear Care conference
. The sponsorship will cover the cost of one registration fee and details of how you can win it are below.
In keeping with the Winton Foundation for the Welfare of Bears spirit of 'Making it bearable', we are proud to announce the WBF Complimentary Registration Contest, giving one lucky delegate the chance to win his/her ABC 2013 registration fee.
Delegates should send an inspiring email of no more than 500 words to the WBF at info@wintonbearfoundation.org, describing the bear work of the organization they work/volunteer for, and the impact that their attendance at ABC 2013 may have on the bears in their care.
The competition closes on March 14th 2013 to coincide with 'Bears Matter Month'. The winner will be notified prior to the public announcement on March 31st on the WBF and BCG websites and Facebook pages.
CONGRATULATIONS ANGELA KYLE!!
We are delighted to announce that the winner of our ABC 2013 Complimentary Registration Fee competition is Angela Kyle. Angela is a volunteer bear caregiver at the Five Sisters Zoo in West Lothian, Scotland and she has been working incredibly hard there to help care for the three rescued ex circus bears Carmen, Suzy and Peggy. We are delighted to be able to support Angela and her work with these special bears by funding her Registration Fee for the Advancing Bear Care conference to be held in the US later this year. Angela was given the lovely news on 30th March – exactly a year to the day that Carmen, Suzy and Peggy arrived at their new home – what a wonderful way to celebrate such a special one year anniversary.
Here is Angela's winning entry…
On the 30th March 2012 3 ex circus bears, Peggy Suzy and Carmen arrived at their "forever home" at the Five Sisters Zoo, Scotland. It was almost a year of hard fundraising but the momentous day arrived and many a tear was shed. Since then the lives of those bears has changed dramatically from feeling the grass under their feet, swimming in their own pond to having the warm sun on their backs. The bears all displayed stereo typical behaviour but to different degrees, Suzy being the worst. Suzy and Carmen tolerated each other and could be in each other's company, however Peggy displayed aggression towards both the other bears. On the advice of a bear husbandry expert, the bears were introduced to social feeding and over a period of time, changes in their behaviour was beginning to be noticed. Carmen and Suzy would now lie down in close proximity and enjoy sharing their food. Peggy would calmly enjoy the social feeding without displaying any aggression. Other advice we were given was followed and will continue to be and it can only be for the good of the bears.
Autumn 2012 for the 1st time in their lives all 3 bears denned up for hibernation. Peggy chose the provided den in the holding enclosure. Carmen, eventually, chose between two of the dens in the wooded, natural enclosure. Suzy, well she remained in her holding pen, where she still enjoyed a little interaction with her keeper occasionally coming over to the fence.
I am a volunteer bear caregiver at the zoo and I am on the "approved" list of people who are allowed to be involved with the bears and it's an honour and privilege.
In October 2013 I am attending the Bear Conference in New Jersey where I will have the opportunity to meet people from all over the world who have many years of experience in bear rehabilitation, bear behaviour and the caring of bears in sanctuaries amongst many other qualifications.
Question -What impact will there be on Peggy, Suzy and Carmen if I attend the conference?
Answer – A huge one.
There are workshops on enrichment, bear behaviour husbandry and bear trauma resolution amongst others, all of which the bears at Five Sisters Zoo will benefit. There is so much to learn and I will be in some of the best company to learn it from. Having these bears at the Five Sisters Zoo is an experience that not many other zoos in the UK have had. So they need to get it right and from the beginning. I am in a very privileged position being able to go and learn from so many people and to impart that advice and knowledge onto others at the zoo who care for these precious creatures.
Angela Kyle
---
 Confirmed events and fundraising ventures during and in the run up to
Bears Matter Month 2013 (Feb 14th – Mar 14th)
EVENTS & FUNDRAISING
Feb 9th – Stall at South Queensferry World Fair, The Priory Church, Hopetoun Road, South Queensferry.  10am – 1pm.

Feb 14th – Sponsored fast for 24 hours by WBF Committee Member, Elaine Edwards – sponsorship welcome.
Mar 2nd  (to be confirmed) – Can collection and information stall at Tesco, Musselburgh.
Valentine's and Mother's Day Gift Certificates are available before and during BMM – please see our Gift Certificates page.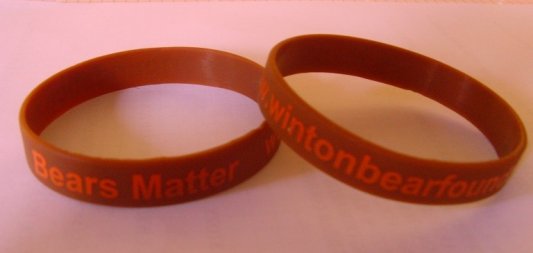 'Bears Matter' wristbands – Available now, £1 each.  To order, contact info@wintonbearfoundation.org.
AWARENESS AND OTHER WAYS TO HELP
Charity Flowers – If you order your Valentine's/Mother's Day flowers through www.charityflowers.co.uk, they will donate 15% of the sales to us.  Please use our source code of WFWB any time you order.
ABC 2013 conference – Sponsorship of Delegates Registration Fee  (see above).
Facebook – please join our Facebook page – throughout Bears Matter Month we will be telling people all about bears and how they can help them.  We will also be holding online fundraising events during this time.
APPEAL
We are appealing to florists and chocolate shop owners to see if they would donate a percentage of their sales on Valentine's Day and Mother's Day to the Winton Bear Foundation.  If you can help, please email lesley@wintonbearfoundation.org.
We are appealing to honey makers and sellers to see if they would donate a percentage of their sales on International Save Bears Day (Feb 21st) to the Winton Bear Foundation.  If you can help, please email lesley@wintonbearfoundation.org.